Funeral Home Website Design Project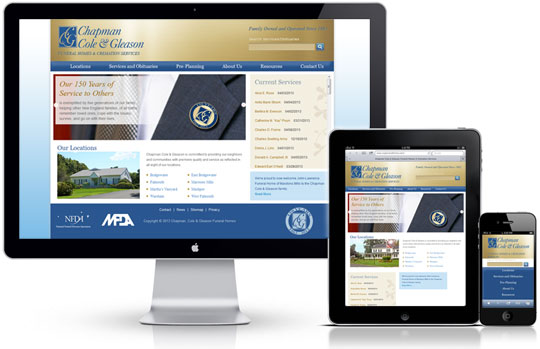 Chapman, Cole & Gleason required a new funeral home website design to help foster an improved brand identity for their chain of funeral homes. It was also important that the new website included an efficient system for managing funeral service details and obituary listings for each of their locations. Human Service solutions worked with CCG to develop a new website that met their design needs and also integrated a customized content management system (CMS), allowing for easy site management by funeral directors and administrative staff. The website has greatly improved CCG's capacity to service existing clients and reach new clients as well.
Obituary and Funeral Service Management
The website includes an obituary management system that makes it easy for funeral directors and administrative staff to publish full-featured obituary listings with a range of features, including:
Manage obituary content with instant publication and editing
Insert photos and video into obituary listings
Special military service designations
Donation link
Locations for funeral, burial and memorial services
Integrated directions with Google Maps
Guestbook comments with spam control and comment management
Mobile-Friendly Responsive Design
The new website utilizes a "responsive" design, which means it automatically scales to the appropriate display based on the visitor's device, so whether on desktop, laptop, tablet or smartphone, visitors are presented with an optimal experience.
Sales to any device size - mobile or desktop
Touch-friendly interface
Flexible, user-friendly navigation
Content Management System
The CMS allows for management of a variety of site content, including:
News announcements and press releases
Local resources, such as flowers shops and caterers
Easy-to-use text editor for updating web content
File and image management
Homepage manager
Funeral Home Locations Management
The CMS allows for easy management of each funeral home location with the following features:
Unique location-specific content, including obituaries
Location-specific service listings
Local resources, such as florists, hotels, restaurants and caterers
Contact information and inquiry form
Directions via Google Maps
Social Sharing & Guestbook
The new website allows visitors to share obituaries on their favorite social networks, and also features an interactive guestbook with comments.
Share obituaries via Facebook, Twitter and other social networks
Social shares automatically link back to the obit page on location website (brand recognition)
Share obituaries via email
Interactive guestbook with visitor comments
Complete administrative control to manage comments
Working alongside Jason and the HSS Team is like working alongside a group of artists. Our website went from the proverbial blob of clay into a magnificent piece of working art. Jason interpreted our professional needs and sculpted a website that is both highly functional and easy to use. Jason has a gift of taking your vision of a website and the functionality you need and making a great product that is easy to use. He is patient, detail oriented, and comes highly recommended by me.

Mark Chapman | Director Chapman, Cole & Gleason

To learn more, simply complete the form below and we'll be happy to follow-up with additional information, including:
Needs Assessment
Cost Estimates
Questions & Answers