New Catering Website Design Leads to Increased Sales Leads and Improved Brand Identity
Lenzi's Catering wanted to redesign their website with a new brand identity that would present a more professional image, improved user-experience, and lead to increased catering sales. This effort was performed in conjunction with a complete overhaul of the company logo and print materials for a unified brand identity across media. The resulting website design reflects a contemporary upscale catering business that is more in line with Lenzi's target clientele, and more effective in delivering qualified sales leads for catering functions.
Website Design & Development
The project included a complete redesign of the old website, including:
Information Architecture
Custom Design
Brand Integration
Content Development
Template Coding (XHTML/CSS)
Google Analytics Reporting
Content Management System (CMS)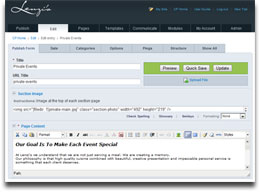 The new website includes a full-featured ExpressionEngine CMS, allowing catering staff to have complete control over site content, including:
Edit Page Content and Images
Edit Menus and Pricing
Publish Company News
Capture Sales Inquiries
Client Login Feature
"The content management system has been very helpful because it's easy to update the website from anywhere - home or work. If we have an announcement, or of the menu or prices need to change, you can just go in and make that change to the website immediately, and it's easy to do."
Measurable Results
The newly designed website brings in dozens of qualified leads for a range of catering functions each month, leading to an immediate ROI with continued return-on-investment month-after-month.
A comparison of site traffic statistics for the same month before-and-after site launch (Feb 2009 vs Feb 2010) shows substantial gains:
+69% Increase in Site Visits
+308% Increase in Pageviews
+141% Increase in Pages Per Visit
+66% Increase in Average Time on Site
-53% Reduction in Bounce Rate
Monthly average of 22 qualified sales leads for catering engagements