QR Code Tracking & Reporting System
Qfuse is a QR code tracking and reporting system system that makes integrating QR codes into your media strategy and marketing materials a simple process from start-to-finish. Qfuse allows you to easily create, manage and track QR codes from a convenient dashboard interface.
QR Code Tracking Dashboard

The Qfuse dashboard allows users to easily manage QR codes from a centralized location with a number of key features, including:
Convenient browser-based access from anywhere with an Internet connection
View scan analytics for each of your QR code campaigns at-a-glance
Create QR codes, or edit existing codes (for self-service accounts)
Specify the landing page for each QR code
Edit codes and change URLs, even after codes have been published
Download QR code files
Export QR code reporting to a spreadsheet
QR Code Reporting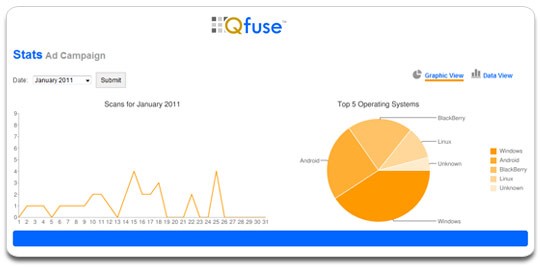 Qfuse reporting allows you to view the scan activity on each QR code, including:
Total number of scans and unique scans
Date and time of each scan
Geo-location information with city, state and country for each scan
User device types (e.g. iPhone, Android, Blackberry, etc)
Graphical view or data view of reporting
Consulting & Support
There is virtually an unlimited number of ways that QR codes can be used in marketing communications, advertising and other outreach. If you're reading this page then you've already thought about some of the possibilities QR codes may hold for your organization's media strategy. Qfuse provides the tools to measure the success of your QR code campaigns, and our support will help you make strategic decisions about how to use QR codes in the first place. Our aim is to help you be successful in your QR code marketing efforts, whatever your goals may be.
Next Steps
Visit Qfuse.com to learn more about the QR Code management and tracking platform with QR Code analytics, or feel free to contact us using the form below.

To learn more, simply complete the form below and we'll be happy to follow-up with additional information, including:
Needs Assessment
Cost Estimates
Questions & Answers