Project Showcase

2020 Census Outreach Campaign

About Our Client
Self Help, Inc. is a nonprofit Community Action Agency (CAA) created to help low-income families and individuals stabilize and secure their lives through education, strategic assistance, and building on opportunities in their communities.
Project Overview
Self Help needed a community outreach campaign that would help increase Census 2020 participation amongst "hard-to-count" populations in their service areas. This challenge was amplified due to COVID-19, which necessitated an all-digital approach, given safety considerations with in-person and on-site options.
Our Solution
HSS developed a multifaceted, multi-channel digital campaign that built upon messaging themes designed to motivate census participation amongst target audiences. These themes were then applied to different media formats including web, search, cable television, on-demand digital/streaming, email, and social media.
Website Landing Page
A campaign landing page was designed to answer key questions about Census participation, facilitate social sharing, and provide direct access to additional Census resources, as well as methods to participate online, by phone, or mail.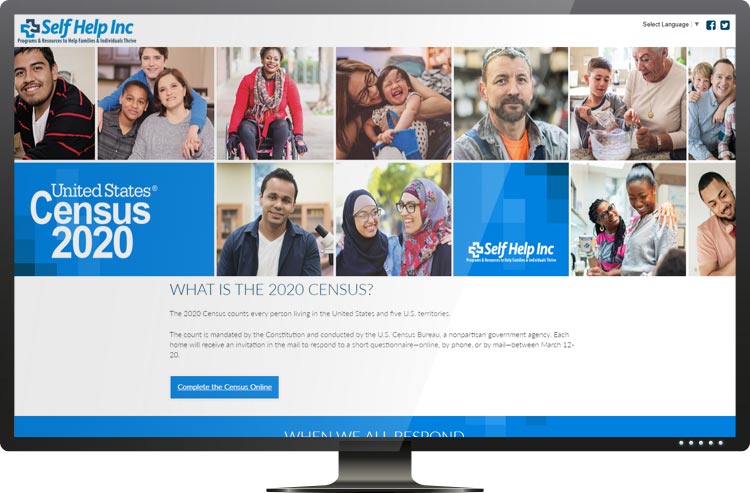 Video Production
HSS produced video spots in two separate formats, that could be displayed across media channels - from social, to cable television, and digital on-demand/streaming services.
Search Advertising
Using the client's Google Grant account, HSS was able to create search ads designed to reach users within the targeted search areas, without any additional ad-spend costs.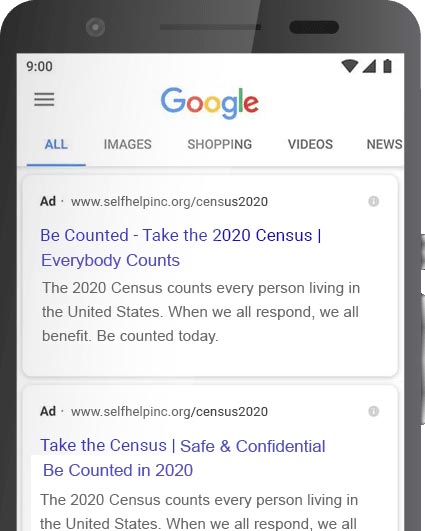 Email Marketing
Custom emails were produced around the Census campaign themes and sent to Self Help's internal lists in order to directly reach community members with whom there was an existing relationship.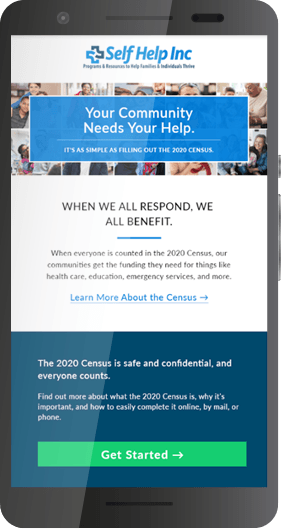 Cable TV & Digital Streaming
HSS created a media schedule to reach households within the target geographic zones, with channel selection based on demographic factors. Video ad spots were displayed on cable television, as well as on-demand digital and streaming services across all devices (smartphone, tablet, computer), and partner web properties. The entire campaign was also cross-referenced with web traffic via Google Analytics for additional performance reporting.