Project Showcase

MASSCAP

Community Action Campaign

About Our Client
The Massachusetts Association for Community Action (MASSCAP) is the statewide association of the 23 Community Action Agencies (CAAs) operating in Massachusetts. MASSCAP provides effective training, advocacy, and support to all Community Action Agencies.
Project Overview
MASSCAP wanted to develop a media plan that would complement the organization's work examining poverty in Massachusetts, including impact on families and policy decisions, while also educating the general public about community action agencies.
Our Solution
HSS worked with MASSCAP to develop a campaign around the theme of #CommunityActionWorks, which would help educate the public about the role that community action agencies play in serving a diverse range of individuals and families in need, and to de-stigmatize poverty with data-driven messaging based on MASSCAP's research. The campaign was structured to establish a foundation that can support a range of future messaging themes, and that can be rolled out in phases, allowing for flexibility in timelines and budgeting. The initial Phase I effort included the following items:
Website Landing Page
A campaign landing page was developed based upon data from the organization's report on poverty in Massachusetts (Obstacles on the Road to Opportunity: Finding a Way Forward for the Children and Families of Massachusetts). The aim was to help promote the report by featuring the most compelling findings, while also highlighting the role that community action programs play to help families and individuals across the state.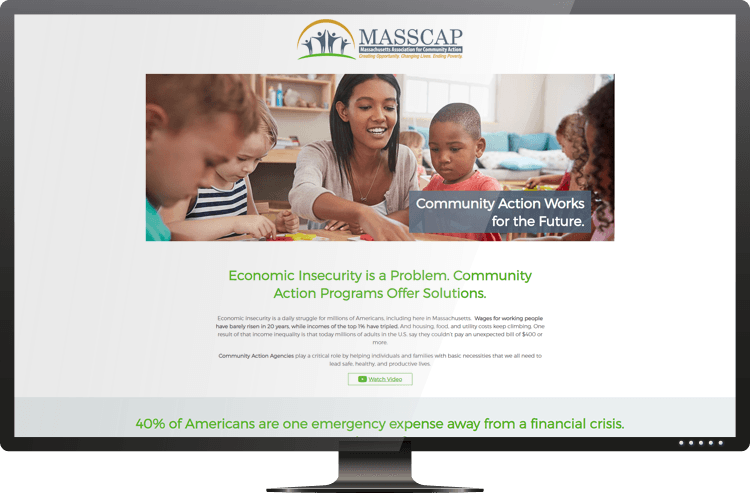 Video Production
A campaign video was produced based on the theme of "Community Action Works" to provide an overview of community action agencies and the various ways that they help families and individuals across Massachusetts.
"HSS continues to exceed our expectations in taking a simple idea and rolling into our overall strategy while keeping us within budget. They are very responsive and easy to work with on a daily basis."
- Lisa Clay | Director of Communications, MASSCAP